W Fort Lauderdale – voted Trendiest Hotel in the U.S. by members of TRIP ADVISOR – is the only W Hotel in the country that crowns its very own "Bliss Guy" each year. What can we expect from the guy who puts the "G" in grooming and the "man" in manicure? This year's reining ruler of style, Jesse Hochmuth, a professional model who also works for US Airlines, is full of must-heed grooming advice for both men and women.
"More and more men are finding out that spas are not just for the ladies and in fact, spa visits are great ways to keep you at the top of your game." he explains. "Whose 'significant other' wouldn't love the gift of a spa visit? And don't worry, there are plenty of manly things to do at Bliss too."
Hochmuth will be sharing his "Top Bliss Picks" with readers. Mention The Bliss Guy when booking and of the Bliss Guy Picks treatments and receive a special gift.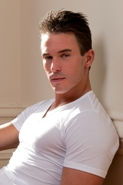 Take a look at the current Bliss Guy Picks…
fab-four package: indulge in a quick total body fix with some of the best of Bliss! Four of most sought after Bliss treatments designed to relax and revive without tying in to a day-long commitment.
take pride in your 'package': get ready to strut your stuff with bliss spa's 'pride' and joy spa package, which includes the ultimate spa treatments for pride-prepping. Enjoy a Rapid Rub Massage; 'Manly-cure or Hot Cream Manicure; Oxygen Blast Facial; and a Basic Brief He-Wax or Basic Bikini Wax.
he-wax: not just any defuzzer will suffice for your, err…sensitive side. The bliss He-Wax is a far superior method of hair removal to shaving and leads to no stubble and slower, softer re-growth. With a separate men's locker room and lounge, power bars to refuel, and some professional male he- waxers (yes, they do exist!), bliss promises to 'wax'-imize your confidence and make you feel downright 'hair'-oic!
Bliss Fort Lauderdale boasts more than 4,000-square feet of tension-fighting facilities at W Fort Lauderdale. With a focus on waxing, skincare services, manicures and pedicures, Bliss also provides massage and body treatments. Four treatment rooms and Bliss trademark touches such as rhythm & blues tunes, a retail beauty boutique, and the legendary brownie buffet, make Bliss Fort Lauderdale the ultimate destination for stylish jetsetters and spa and beauty-loving locals.
See why the Bliss Guy Picks made the list – to make your appointment call 877 TO BLISS (877 862 5477) or visit www.blissworld.com.
Bliss Fort Lauderdale is located at W Fort Lauderdale | 401 N. Fort Lauderdale Beach Blvd, Fort Lauderdale, FL | 954 414 8200 |